Greetings!
(This is a necklace made of pure citrine, rutilated green quartz and hematite. Valued at $77)
Its been almost a week since I posted a new piece so today I am making another hand made wearable art piece from my "Medicinal Jewelry Line" available for $teem to promote the use of $teem as a legit currency for real world goods and services.
This is not only useful and beneficial for Steemians as we make Steem right here on the platform, but the more useful and established the currency is the more valuable $teem becomes!
That means every $teem we have goes up in value and every $teem we earn is worth more!
(This is a necklace made of pure citrine, rutilated green quartz and hematite. Valued at $77)
All mater vibrates at a certinan frequency and all frequencies influence energy around them. Crystals stones and gems have been used for quite some time as healing tools and there are many books and practitioners in this niche.
Also stones, gems and crystals have been high valued for thousands of years and I think a lot of that has to do with its energetic benefits.
When you add that to the fashionable beauty of these pieces and the store of value precious stones have these hand made wearable medicinal jewelry pieces are a great investment!
Here are the healing/medicinal qualities for the stones in this Medicinal Jewelry Piece.
Citrine:


⟢ premiere wealth and success stone
⟢ cleanses chakras
⟢ opens intuition
⟢ imparts enjoyment, passion, and self-confidence
⟢ strengthens focus by strengthening the brain
⟢ activates motivation
⟢ encourages self-expression
⟢ releases negative programming and limiting triggers
⟢ alleviates depression and fears
⟢ reverses degenerative disease
⟢ stimulates digestion, the spleen, and pancreas
⟢ reduces kidney and bladder infections
⟢ reduces eye problems
⟢ increases blood circulation
⟢ detoxes the blood
⟢ activates the thymus
⟢ balances the thyroid
⟢ relieves constipation
⟢ helps to reduce cellulite
Hematite:
⟢ stone for the mind
⟢ grounding and protective
⟢ strengthens our connection with the earth
⟢ encourages safety and security
⟢ imbues courage, strength, endurance, and vitality
⟢ stimulates stimulates concentration and focus
⟢ enhances memory and original thought
⟢ balances yin-yang energies
⟢ provides stable equilibrium between the ethereal nervous system and the physical nervous system
⟢ focuses energy and emotions for balance between the body, mind and spirit
⟢ dissolves negativity and prevents you from absorbing the negativity of others
⟢ boosts self-esteem and survivability
⟢ enhances willpower and reliability
⟢ imparts confidence
⟢ helps to overcome compulsions and addictions
⟢ treats overeating, smoking and other forms of overindulgence
⟢ restores, strengthens and regulates the blood supply, aiding blood conditions such as anaemia
⟢ supports the kidneys and regenerates tissue
⟢ stimulates the absorption of iron and formation of red blood cells
⟢ treats leg cramps, anxiety and insomnia
⟢ aids spinal alignment and fractures
Rutilated Quartz:
This is a type of quartz with needlelike rutile within it. The rutile needles can be reddish, which is what rutile means in Latin, or they may be golden, silvery, or on very rare occasions, greenish.

⟢ helps energy move on all levels
⟢ supports mental focus
⟢ encourages love and stability in relationships
⟢ activates chakras
⟢ aids in the healing of food disorders
⟢ boosts the immune system
⟢ regenerates tissue
⟢ treats fatigue, depression, and respiratory illness
⟢ promotes stability of all physical systems and general health, and absorption of nutrients from food
⟢ used to heal mental issues and dysfunctional programing
⟢ overcomes fear
⟢ releases limiting life patterns
⟢ stabilizes emotional and mental states of mind
⟢ activates self-reliance and independence
⟢ aids in meditation, spiritual journeys and dream states

I hope you find this listing educational and beautiful. If you like it I have made many others and listed many of them here on Steemit available for $teem!
(This is a necklace made of pure citrine, rutilated green quartz and hematite. Valued at $77)
I can also do custom pieces including almost any stone you would want, by color theme or energetic qualities.
Listed below are some of the other pieces I have made over the last couple months.
(Pure labradorite pendant on chain of pure jasper, fluorite and labradorite beads VALUED $77)
This piece is made of a pure labradorite pendant and is on a chain of pure labradorite and jasper beads!
Labradorite is one of my favorite stones as it particularly magnificent in the sun as it is super reflective and refractive.
(Made of pure citrine, red coral and jasper. Valued at $55)
This is a really unique necklace of which I am really liking. Its totally my style and as per my standards it is made of pure natural materials citrine, jasper, focalized coral and copper!
This is a piece I would totally wear for my self and will keep one in my collection. The colors, textures and specific materials are perfect for me. I love how it looks and citrine is one of my favorite stones as its frequencies are much to my preferred alchemy.
(Made of pure citrine, red coral and jasper. Valued at $55)
That coral really looks beautiful, almost like fancy dichroic glass. I like how because they are long and narrow they create this lion main like pattern of thick and thin, longer and shorter. The colors are also nice shades of gold and light brown.
This piece is a new design in my Medicinal Jewelry line and is valued at $55. It is available for $teem or other agreeable fiats.
(Made of pure citrine, red coral and jasper. Valued at $55)
Here is the last piece I published a post about here on Steemit and made available for $teem. Also below are other designs I have made and done photo shoots for while of course making available for $teem to create a real world market for $teem and to increase its value by using it instead of cashing it out.
(Made of pure shell chain and pendant! Valued at $66)
I have been so busy running The Garden of Eden, making Epic Steemit Gear and preparing to speak at SteemFest!
I am also running a contest to to promote Steemit and SteemFest by giving away a FREE ticket to SteemFest2 in Lisbon Portugal!!!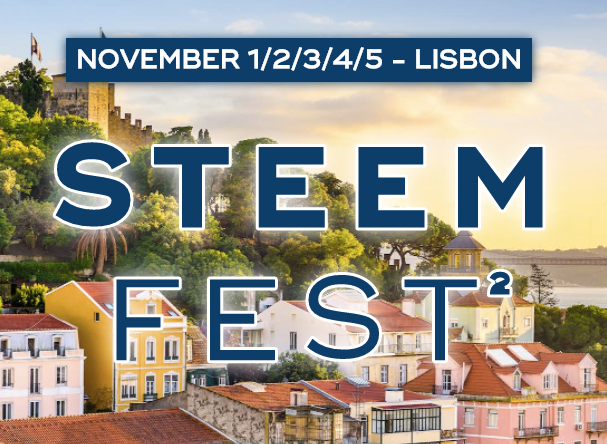 I love being creative and artistic but I really like functional usable art. So these medicinal jewelry pieces are really nice way for me because not only can they be worn as fashion but they are very beneficial to wear as frequency medicine. Because they are made of precious stones and metals they are also a great investment as a store of value!
(Made of pure shell chain and pendant! Valued at $66)
All matter vibrates at a frequency and all frequencies have their qualities. Precious stones, gems, metals etc have been cherished for thousands of years. This has more to do with just the fact that they are valuable or rare. I believe that people have an intuitive draw to precious stones and metals because they have energetic benefits.
(Made of pure shell chain and pendant! Valued at $66)
I have made hundreds of different one of a kind hand made jewelry arts. I love working with precious stones and metals. I particularly like the shell spikes on this piece. It adds a lot of character that most necklaces don't have. It really stands out with a POW!I also love how shiny and refractive the abalone shell is. The reg garnet gem on there really makes it look fancy and expensive. Nature is AMAZING! Such beauty and such blessings.
(Made of pure shell chain and pendant! Valued at $66)
This piece is made of a perfect spiral sea shell pendant with a nice rainbow open sheen. It is on a chain of tiny perfect spiral shells and abalone shell spikes!
I really love this piece and am very happy with it! This one is valued at $77 and can be traded for with $teem or any other established currency.

I posted TWO new pieces a few weeks ago made of pure faceted tigers eye and citrine!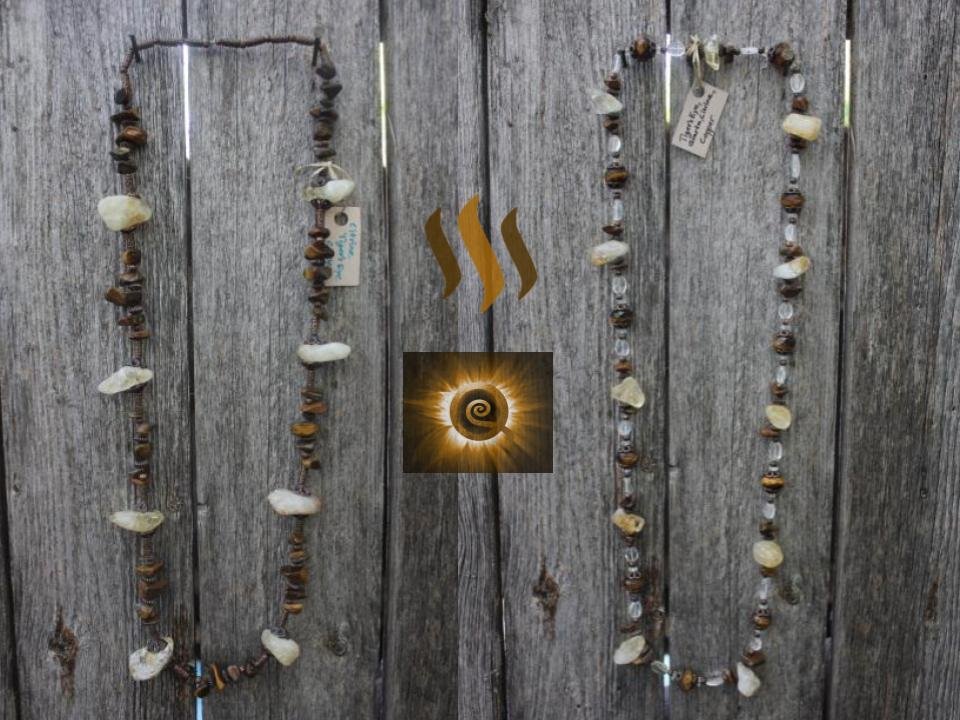 (Made of pure citrine, tigers eye and copper valued at $44)
I have not worked a "JOB" or had a boss in over 15 years. I am committed to not paying taxes to the military industrial complex and private mega corps disguised as "government" and have been trading/bartering for a very long time. Even though I have been liberated for a long while Steemit is a fantastic new potential to help people liberate them selfs from jobs and participate in a new much more honorable economy!
Because we are all here on Steemit, it is a really great way to have the convenience of currency with non-taxable military industrial complex funding transactions! Plus we can transfer $teem to each other without fees and it literally pays a lot more to hold your savings in $teem than a bank account.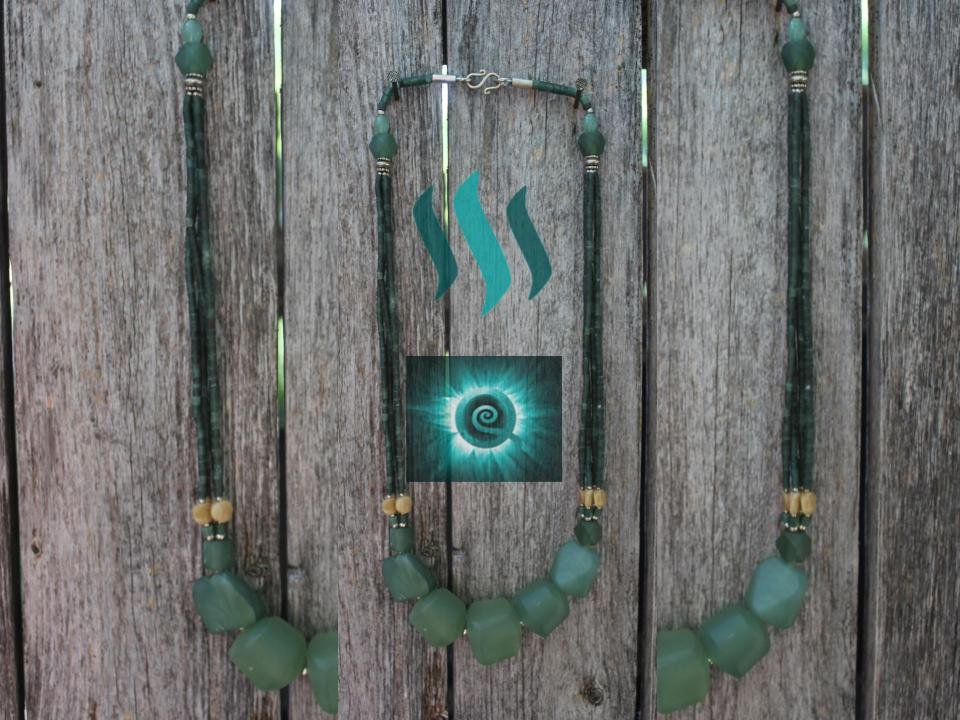 (Made of pure jade. Valued at $66)
(This was the last piece I featured. It is 100% pure jade with a variety of shades of green and even some yellow)I have for almost a year now been helping build the REAL world Steemit Economy and the value of $teem by hand making tangible goods and offering them for Steem. In truth, to my knowledge, I have the most real items/goods available for $teem of anyone in the world. To make it even better, LOTS of those tangible items are Steemit Logo Gear! This helps create more demand for $teem & real world applications for $teem and also promotes Steemit brand by putting the logo all over the place!If anyone would like to check out my jewelry, you can find quite a few pieces on PeerHub available for $teem or on The Garden of Eden website, where I donate most of my pieces to help feed, clothe, educate, and house people in need.

If you did not see it, I have featured many other pieces such as this beautiful and powerful Lapis Lazuli necklace! $99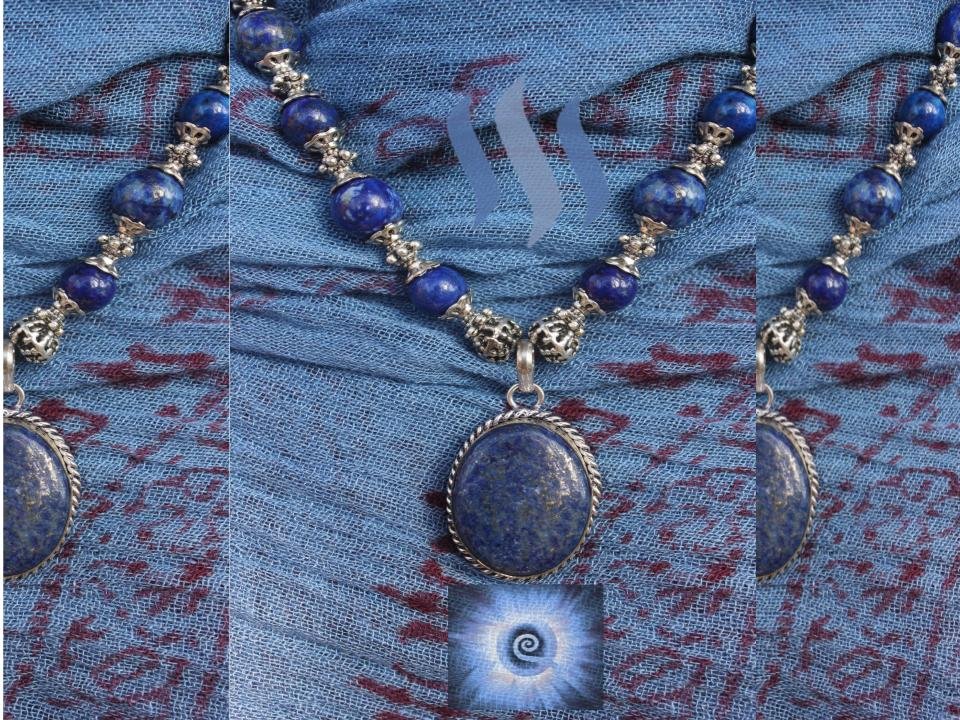 (Made of pure lapis lazuli pendant and beads. Valued at $99)
I also featured this hand made powerful chain of pure kyanite, labradorite and copper! This is a piece I would wear my self for sure! Valued at $55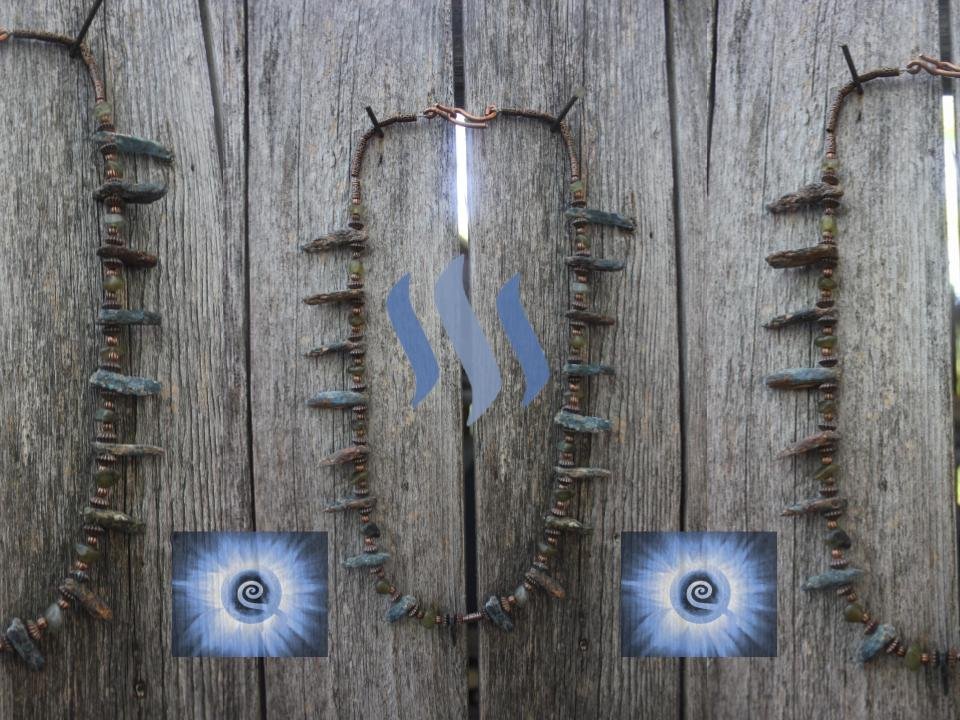 (Made of pure kyanite, copper and labradorite. Valued at $44)

I recently made this beautiful and spiritual enhancing Amethyst and Lapis Lazuli piece recently as well which is my birth stone! Valued at $77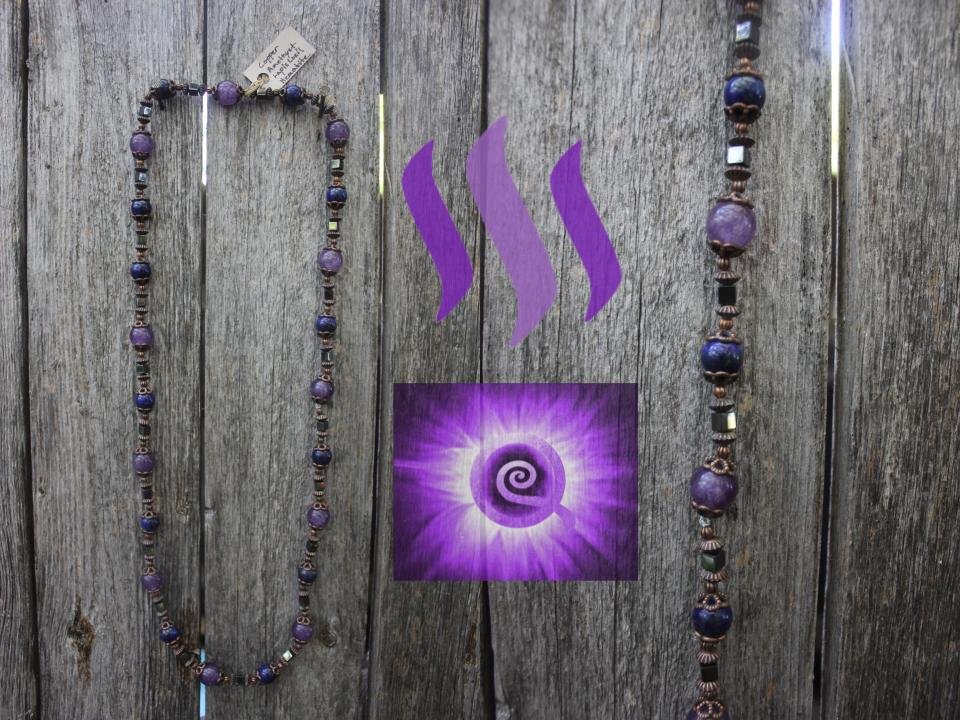 (Made of pure amethyst, hematite and lapis lazuli. Valued at $88)
You can also commission custom pieces with the types of stones/metal/material you like. I will even do it for $teem!
If you don't know about "Medicinal Jewelry", it is the name of my jewelry line because I am committed to sustainable and holistic living even in fashion!
Like this pure silver wrapped apatite gem!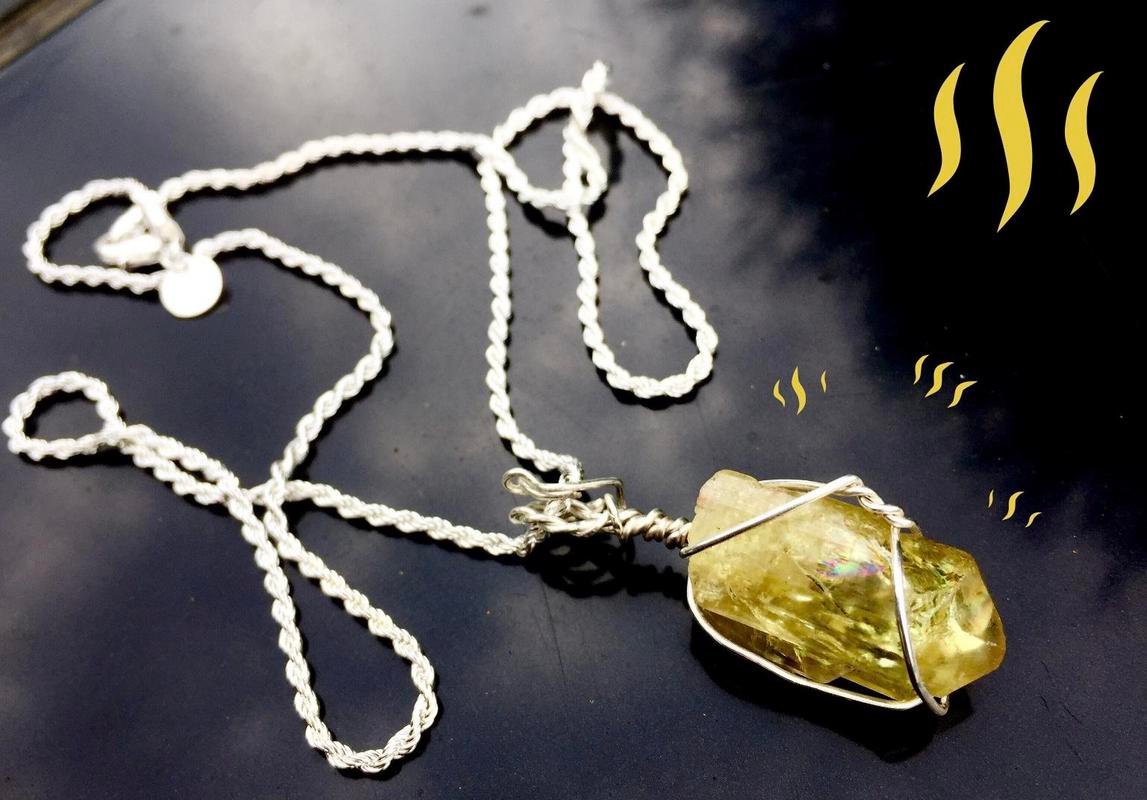 All my jewelry is made from stones/crystals, which have healing and metaphysical properties. I also use pure energy conductive metals like gold, silver, or copper to wrap them in. So they are not only good investments because they are a solid store of value, but they also have healing/medicinal qualities, which improve energetic resonance/frequency and overall well being!


As always, I appreciate your support and welcome your feedback!
SteemON!